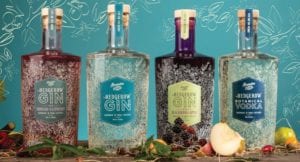 Yorkshire-based distillery Sloemotion Distillery needed to organise a mass of data or risk missing out on advanced marketing opportunities.
Read on to learn how KulaHub's CRM solution and consultancy helped Sloemotion cleanse its data and improve its sales operations.
From the Hedgerows of Yorkshire
Sloemotion Distillery is a Yorkshire-based business that produces a range of delicious gins and other artisan spirits using botanicals and berries foraged from local hedgerows.
It was founded in 2002 by Joff Curtoys, with his brother joining soon after, and today it employs 20 people and offers a range of complementary spirits and other products.
About 50% of the company's sales are to retail outlets, including around 500 farm shops and several major supermarkets.
The rest of its customer base is evenly split between bars and restaurants and direct-to-consumer sales.
However, Sloemotion's B2B customers usually deal with hundreds of other suppliers and rarely have automated stock systems.
This means the sales team has to generate demand and encourage customers to reorder—a time-consuming task when you don't have a suitable data management system to help.
As the company continued to grow, it became clear that it needed to find a more efficient way to organise its data and streamline its processes.
Sloemotion Distillery's Data Challenge
Sloemotion's B2B customers deal with hundreds of other suppliers and rarely have automated stock systems.
This means that the sales team has to generate demand and encourage customers to reorder.
As the business grew, its management found that the business software packages they had been relying on to organise sales data were ineffective for a large sales team.
The company faced several challenges, including:
Difficulties Managing Data
Sloemotion Distillery had 15 years of data and around 70,000 records.
This data should have been valuable; however, it was collected and stored on different departments' systems.
The company was using spreadsheets, email calendars and accounting software, which aren't designed to manage and utilise data.
Data managed in this way is time-consuming to use and its value is low.
There is often duplication of records, too. This is not only frustrating for the business but also for customers, who may be contacted multiple times by the same company.
No Oversight of Activities
Sloemotion has 7 sales people—a large team for a business of this size.
Tracking sales using unsuitable business software packages made it challenging to monitor the teams' activities.
Managers wanted to see which team members were performing well and gain a clear overview of operations to judge business efficiency.
Missing Data Marketing Opportunities
Sloemotion wanted to understand critical sales factors such as customer tiers, sales patterns and buyer habits. To do this their data needed to be managed better.
Joff's team knew it was missing an opportunity to use data to inform sales strategies and drive targeted marketing campaigns.
An urgent need for a more efficient data management system arose in early 2020. The pandemic meant that most bars and restaurants had closed their doors, and a large portion of Sloemotion's customer base became dormant.
The company needed to make up for this loss by focusing their efforts on their retail clients.
Luckily, by this point the company already had KulaHub on board.
Recommended Data Experts
The Sloemotion team realised they had to start using data effectively—or risk dropping behind their competitors.
By early 2019, Joff was seeking a CRM solution and a fellow business owner recommended KulaHub.
Let's look at how KulaHub has helped Sloemotion so far.
Data Consultancy
First, Sloemotion needed to rationalise its data. KulaHub audited and cleansed all records. This involved:
Transferring all data from the accounting software and spreadsheets to a central CRM.
Cleansing 70,000 records to focus on 1,000 businesses that were regularly buying.
Tagging up the data, allowing it to be searched and segmented instantly.
Now Sloemotion's customer records are managed seamlessly. New contacts are added to a single CRM record the moment they get in touch, and their information can easily be recalled at the click of a button.
Training and Support
Getting started with a CRM with multiple capabilities could have been a steep learning curve for Sloemotion. KulaHub ensured their client hit the ground running by:
Hosting a two-day training course.
Teaching data management practices, including cleaning and processing data and how to tidy information in legacy systems.
Providing daily technical and operational support to ensure smooth set-up and operations.
Offering advice on how to get the best out of the CRM and marketing functions.
Sloemotion has opted for the full-year support package, so they'll have KulaHub's approachable support staff at the end of the phone whenever they need them.
Advanced Marketing Capabilities
Today, Sloemotion's sales operations are more efficient and able to take advantage of data marketing techniques.
Alerts inform the sales team if a customer hasn't bought stock recently.
A suite of customer management tools ensures that pipelines are managed between salespeople.
Customer orders are processed through KulaHub, increasing efficiency and ensuring sales data is recorded accurately.
Market segmentation allows customer groups to be identified by factors such as order history, type of business and average spend.
In turn, this enables highly targeted email campaigns.
Targeted email campaigns played a vital role in Sloemotion's Christmas sales strategy. It identified 100 businesses that were likely to be low on stock in the run-up to the festive season. These businesses were approached with a special offer to help drive sales.
Efficient, Effective Sales
KulaHub has given Sloemotion control over its data and supercharged its sales team's efficiency and effectiveness.
It's still early days, and Sloemotion will spend 2021 exploring more of KulaHub's capabilities—such as the CRM's integrated dashboard, which will help management report on critical information like progress on targets, priority tasks and alerts to new enquiries.
KulaHub will also provide third-party integrations to automate more functions within the CRM and make management of Sloemotion's online shop easier. These include:
Connecting the website's online store with the Shopify ecommerce platform.
Linking the payment system to Xero accounting platform.
"I can heartily recommend KulaHub. Organising our database and switching to a CRM was a daunting task, but with their support it was seamless.
"We've had to focus hard on our retail customers due to lockdown and KulaHub's capabilities have come into their own here, helping us to gain new customers and improve our management of existing ones.
"Recently one of our team moved on to another business. The company was looking for a CRM and my former colleague recommended KulaHub—that's how satisfied our entire team is with the system!"
Joff Curtoys, Sales Director and Founder, Sloemotion Distillery.
KulaHub CRM enables you to discover opportunities, engage with customers, track performance and generate more sales.
If you'd like to learn more about how KulaHub can help you develop a data-driven sales process, contact Andrew Booth on [email protected] or call 0800 049 6044.